Home » Couple »
How Will This Guide Help You?
If you are looking for a Dutch version of this article, please read "31 Magische Loveshoot Tips Voor De Perfecte Foto".
My name is Sjoerd Booij and I'm a couple photographer in Amsterdam, the Netherlands. I captured love stories for many couples in the past decade. Using my experience I composed this couple photoshoot guide to help you prepare in the best possible way.
Use the Table of Contents to navigate your way through this guide. You can also contact me for more information or book me as your couple photographer.
What Is a Couple Photoshoot?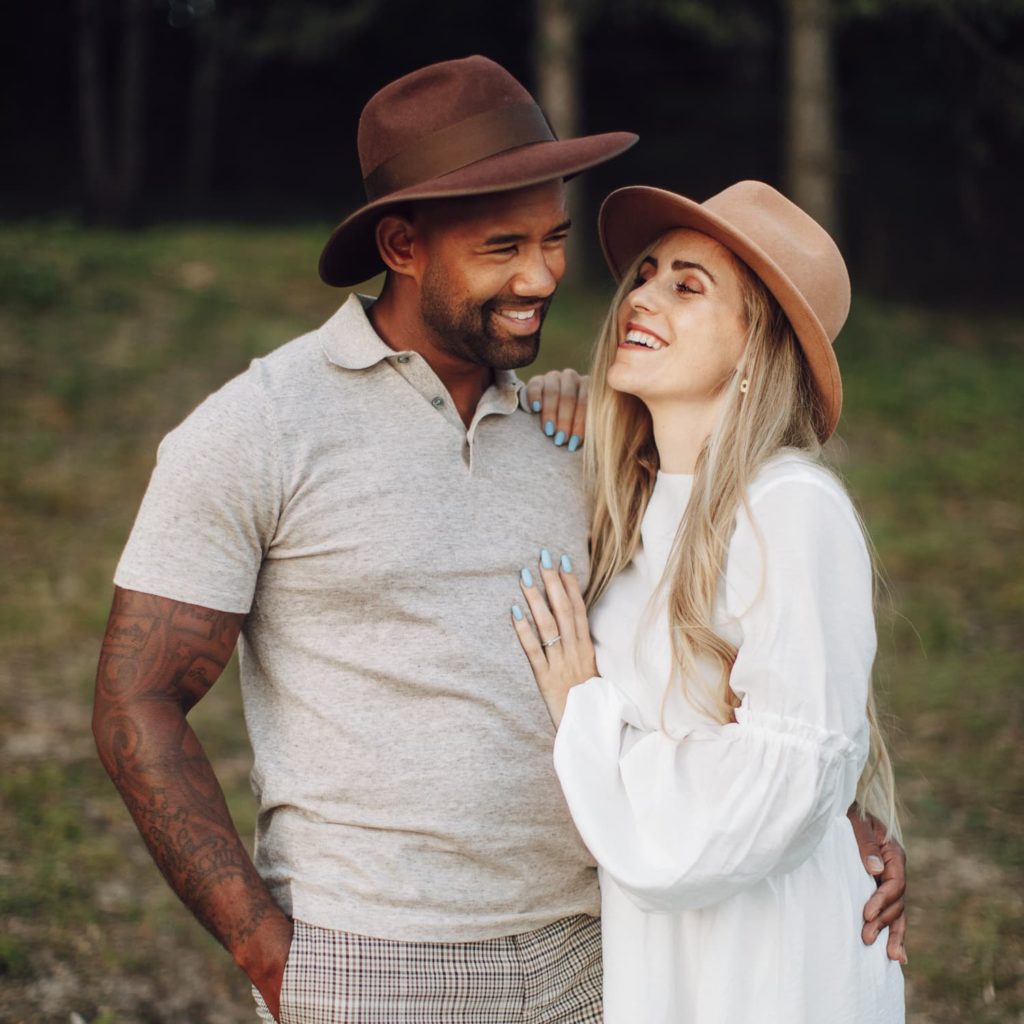 A couple photoshoot is the perfect way to capture memories. Enjoying life with your significant other and explore the world together is amazing. Being able to look back on these memories is what makes couple photoshoots great.
Remember that time exploring a new city? Taking pictures of each other in front of all those lovely landmarks. You asked someone to capture a picture of you guys. And of course you took selfies together… extending your arm or did you use a selfie-stick?
Remember when you guys were celebrating your first anniversary? Or your fifth? Thinking about proposing? Whatever the reason to celebrate or commemorate may be…
Wouldn't it be great if someone could capture these memories for you? So you can enjoy everything to the fullest and be in the moment together?
That's exactly what a couple photoshoot can do for you.
5 Reasons for a Couple Photoshoot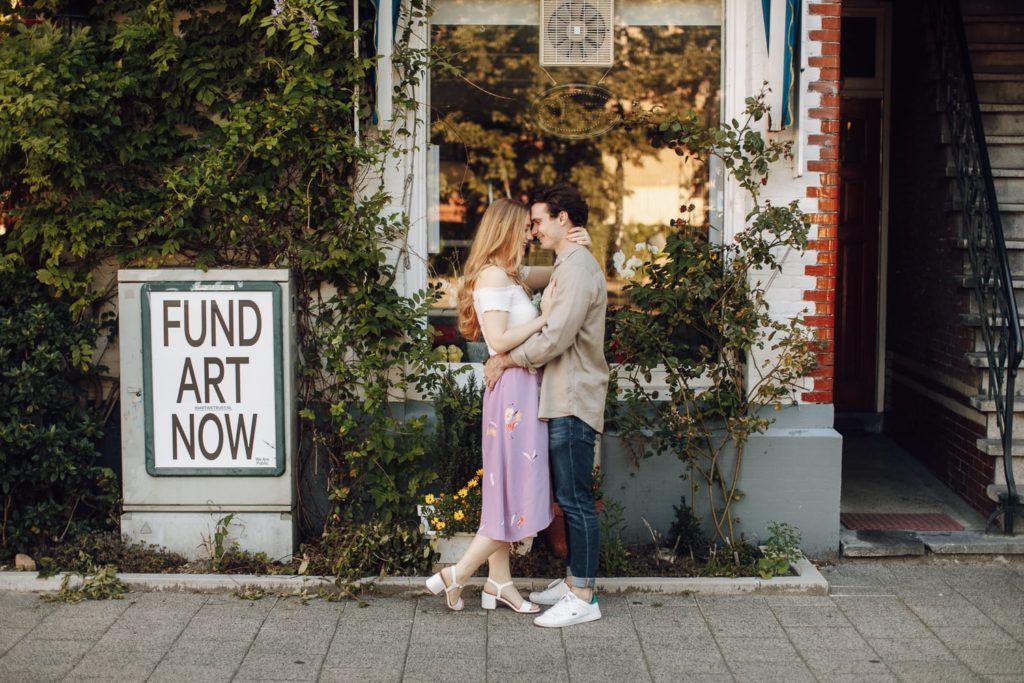 There are many great reasons for couple photoshoots. Some are more obvious than others. Let me summarize some reasons for a couple photoshoot for you below.
1. Engagement Photos
A big reason to book a couple photoshoot is an engagement. Go out, celebrate and capture how you feel!
Getting married is amazing! You can start planning your wedding and dream about the big day. But that doesn't mean you should forget about the time before the actual wedding. Make sure to capture that happy, delirious love you feel right now.
A couple photoshoot when you get engaged is a great start to your wedding story.
2. Create a Visual Diary
Life moves fast and a lot of stuff is happening every day. You won't be the first to get caught up in daily life. Couple photoshoots help stop time and capture a visual diary of your life together.
Sometimes you capture huge moments like an engagement and sometimes they are small. All these moments are worth remembering and play a part in your visual diary.
It's about capturing time so you wont forget how you felt. "Remember us, no kids, out every weekend…" or "Remember, this was the time when we bought our house".
3. Romantic Present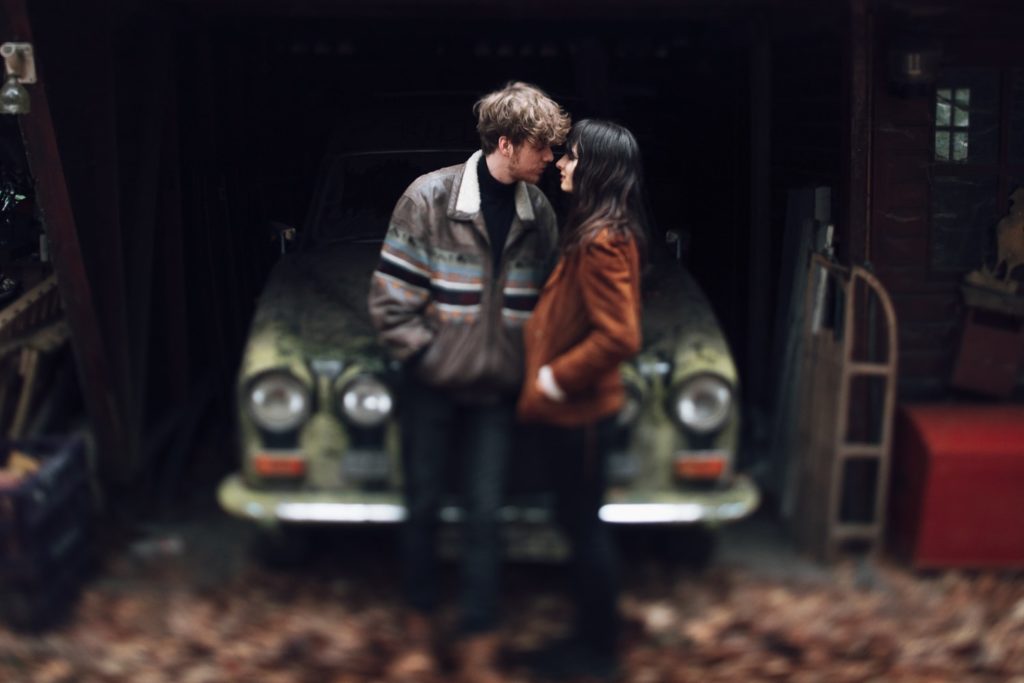 Presents folks. For some it's a laugh, as in the person on the receiving end. For others it's a cry and a lot of sweat. "What do I get him/her this year".
How about a couple photoshoot?!
Everybody loves presents that have a deeper meaning. What better present then celebrating your love together?
4. Quality Time Together
No special reasons to celebrate? That's ok.
Couple photoshoots are about spending quality time together. You don't need special reasons for that!
5. Wall Art
You bought your first house together. The furniture is in place, the lighting is great and plants are rocking big time. But those walls are so damn empty.
Paint them. Put a picture up there. Or do both.
No tacky close-up kissing pictures (common folks), but something nice. Something that shows your love in a more artsy way. There are options people, trust me.
How to Prepare for a Couple Photoshoot?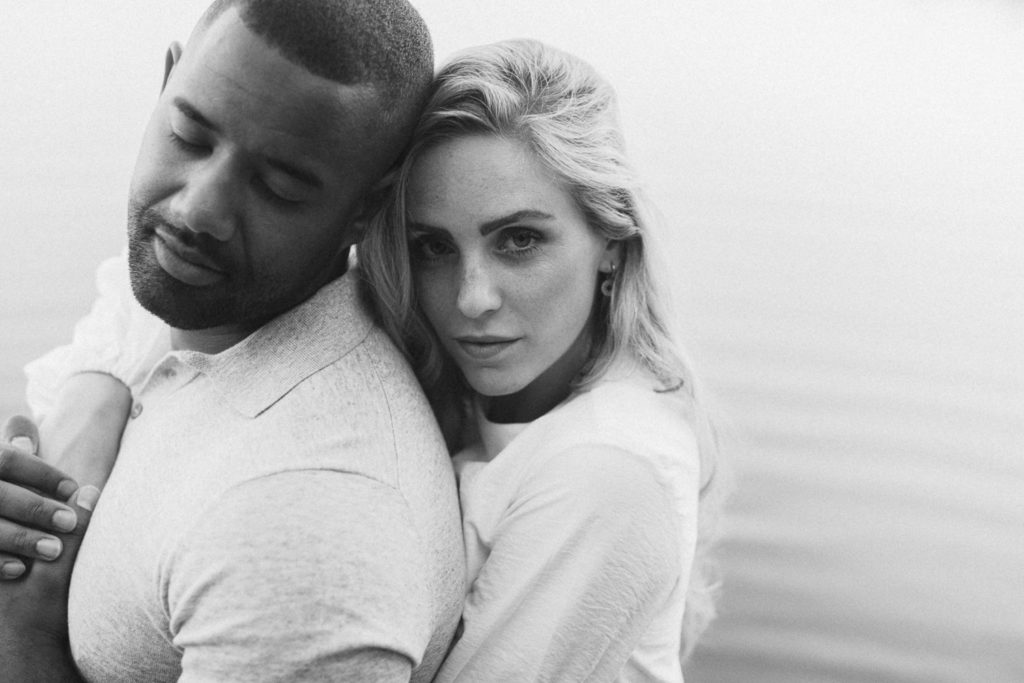 To get the most out of your couple photoshoot it's good to prepare yourself. Below I have listed 6 things to think about before you book a couple photoshoot.
1. What Do You Look for in the Photos?
Think about this question for a bit. What type of couple are you?
City people or nature lovers? Get up early and hike a mountain before sunrise or late Sunday morning wake-ups and café latte? Some posed photos or a complete story of your adventurous day together?
In other words. What type of couple are you and what should the concept of your couple photoshoot be?
2. Keep the Mood Light
Remember yourself a couple photoshoot is all about having fun. Don't force yourself into something you are not. Be yourselves and enjoy each others company, that's the most important.
3. Bring Different Outfits
Before the couple photoshoot you should think about outfits. Of course everyone has their own style, but some things work and some don't.
When you bring different outfits, you can switch if needed. It's also an opportunity to capture different looks.
What to wear during couple photoshoot
4. Don't Go for Perfect Poses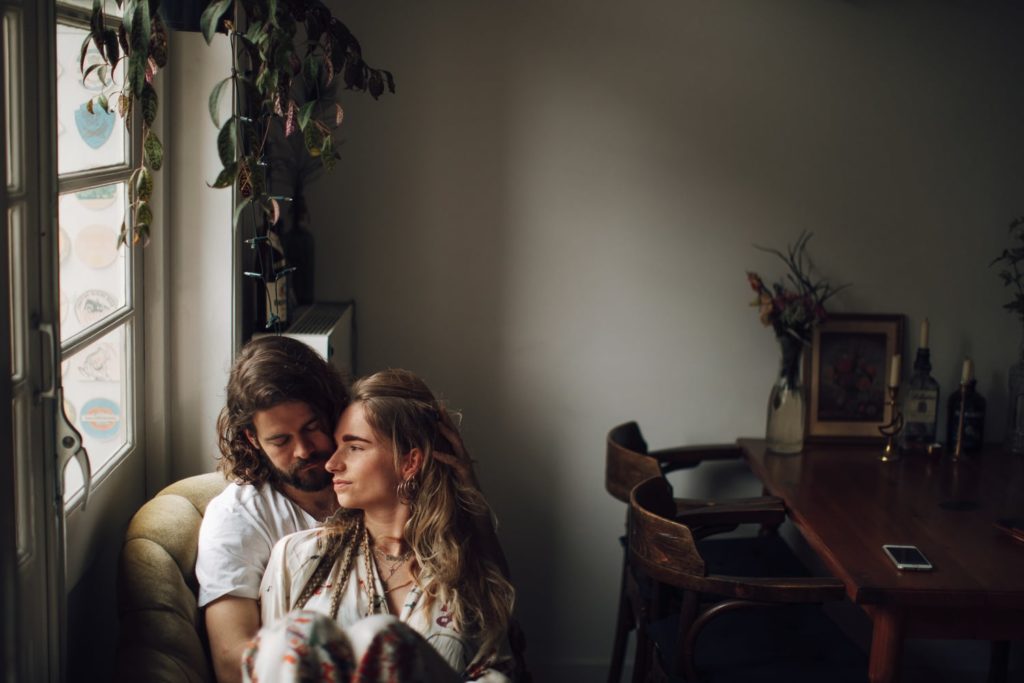 Don't get me wrong. I do believe certain couple poses work better than others. Therefor a posing guide could be a great read before your couple photoshoot. I have some posing tips ready to read for you actually.
By all means, figure out what poses might be for you and what not. It's part of coming prepared. Having said that, please don't fall in the trap of practicing poses to achieve perfection.
Perfection comes from in-between moments. Enjoy the couple photoshoot and actually be in the moment together. That will ensure great photos. Not you trying to mimic a pose you saw in the posing guide.
5. Talk With Your Partner
Thinking of booking a couple photoshoot? That's great! Don't forget it's a two people thing though. Talk to your partner. Figure out the comfort zones you both have.
Some love kissing shots. Some hate being intimate in front of other people. Get on the same page with your partner to avoid awkward moments during the couple photoshoot.
6. Check out Pinterest
Pinterest is great for inspiration. Have a look and find interesting and creative ideas. Put them in a board of your own and share it with your partner.
Below I have gathered some boards that might be interesting to start with.
7 Quick Tips on What to Wear for a Couple Photoshoot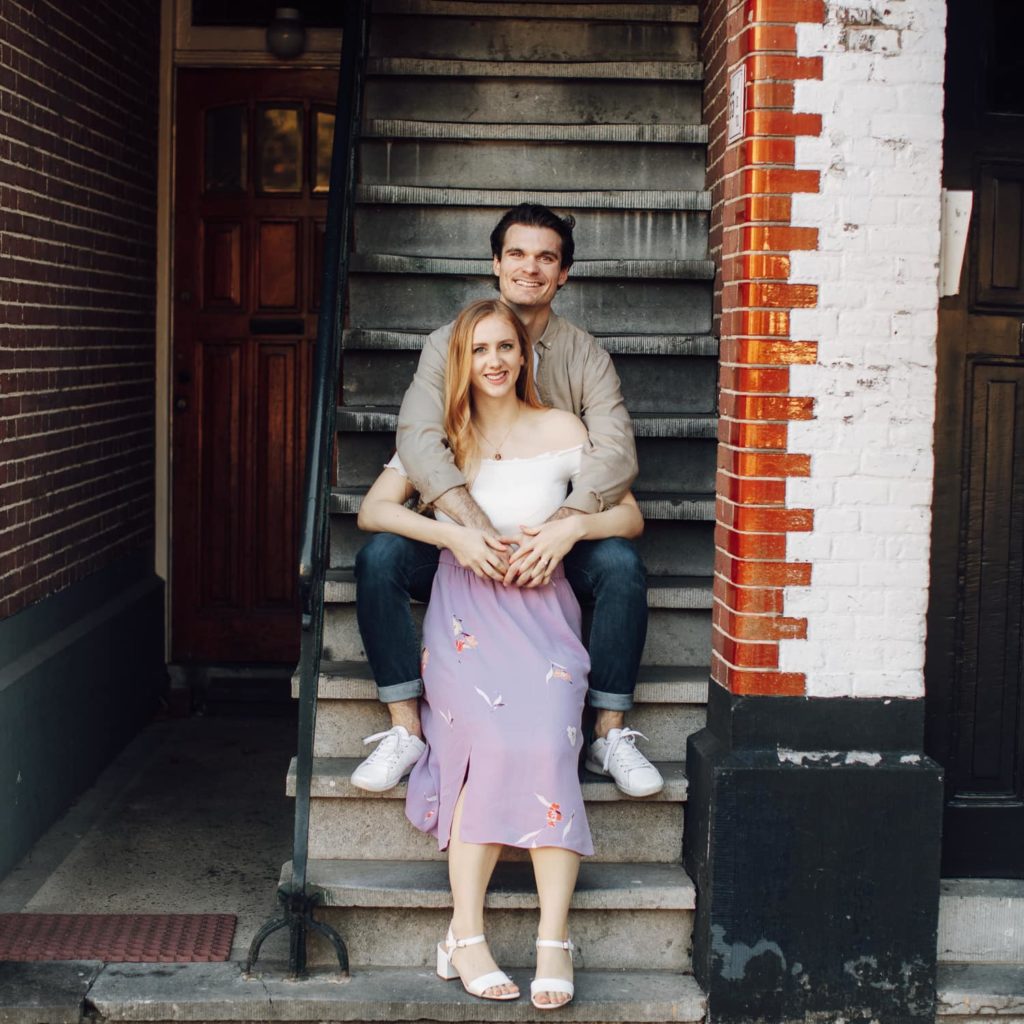 You've pulled the trigger and booked a couple photoshoot. That's great! Time moves on and other things ask for attention.
Then, the week before the couple photoshoot, stress hits you. What to wear?!
Don't worry. I've got you covered with 7 tips on what to wear (and what not to wear) for your couple photoshoot.
1. Wear Clothes That Make You Feel Confident
Don't wear clothes you would never wear. Not a tuxedo guy? Don't rent one. Always in jeans kind of girl? Rock the jeans. It's that simple.
Stay true to your style and spice things up from there. Look like yourself, but at your absolute best. It will be a total confidence boost when you look in the mirror.
The results from your couple photoshoot rely the most on how you felt during the photoshoot. Make sure you feel confident and the pictures will be amazing.
When the clothes don't match your personal style, they might be over the top. As a result you will feel awkward and unsure. That's definitely something to avoid.
2. Complement Your Outfits, Don't Match
It's a great idea to check what your partner will be wearing. That way you can complement each others clothing.
By using complementary colors for instance, you can make the final look stronger. Use of the same color family is also possible, but use different strengths in that case.
Watch out for matching outfits too much. It will make you look like siblings rather than lovers.
Also stay away from too busy patterns in your clothing. These will scream for attention and thus take the focus of you guys.
3. Choose Outfits That Scream Fun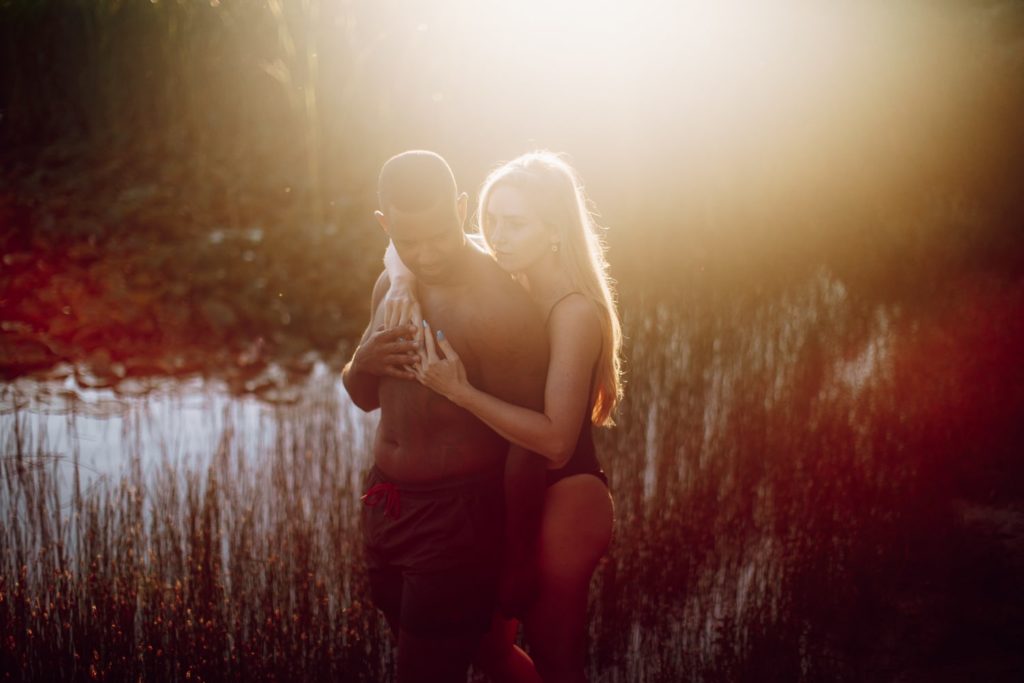 A couple photoshoot is about being able to connect and be in the moment. If you are carefree during the photoshoot, the better the resulting photos will turn out.
Choose clothing that allows you to be carefree, jump around, run and be playful together. Don't pick a white dress if you don't want it to get dirty.
4. What Colors To Choose / Color Schemes
Try to avoid colors that draw a lot of attention (red, orange). Don't put unnecessary focus on your outfit. In the end it's about capturing your love for each other. Not about a red skirt that screams for attention.
This doesn't mean all reds and oranges are wrong, but picking a cooler hue might work beter in some cases. Going with a neutral or pastel teint is also a great option.
It also depends on your couple photoshoot location. What colors are likely to encounter there. Try to match and complement these colors with your clothing.
You can use a cool website like Coolors.co to find interesting color schemes. You can explore and search for schemes like: Earth, Neutral or Pastel.
Another fun option to try is Colormind.io. You can upload an image with colors you like and it will give you a matching color scheme.
Or you can use Mycolor.space. Fill in a color and you'll immediately receive a full palette that goes with that color.
5. Think About the Season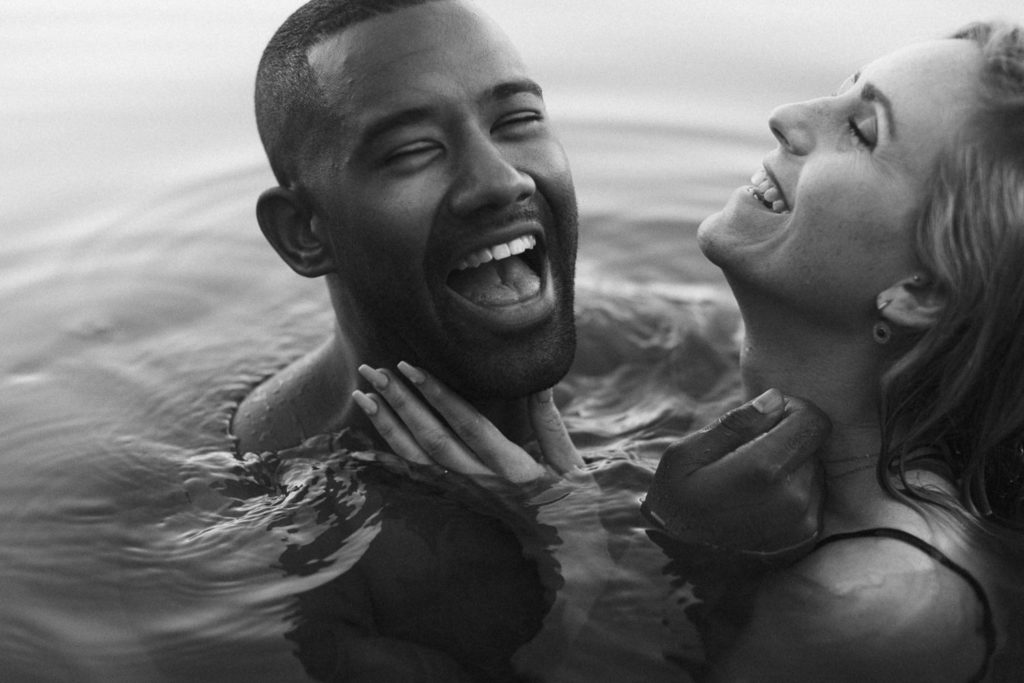 Every season has it's own colors to work with during your couple photoshoot. Book your session in a season that works with your clothing style and colors. Did you check for color schemes above already?
Every season has it's pros & cons in reference to photography and clothing choices. Below I'll talk about some of these pros & cons.
Summer & Spring
---
During spring the light is great throughout most of the day. The sun doesn't get too high yet, which keeps weird shadows in faces under control.
With summer couple photoshoots, it's important to think about the time of day. Light tends to be more harsh and creates weird shadows in faces. Going out early in the morning or late in the afternoon is a great solution.
For the ladies
It's definitely the time for a flowy dress if the temperature is high enough. It can still be cold early spring in the Netherlands, so keep that in mind. Pastel tones tend to work well during this time of the year. Dresses with small flower prints are great too.
For the men
Black trousers or light jeans are always a winner for men. A t-shirt without prints to finish of that simple look. Color wise it's best for men to complement the dress of his lady.
Both men and woman can accessorize if they feel like it. A nice hat or flowers could be something to think about, but are definitely not a necessity.
Summer / Spring Outfit Couple Photoshoot Moodboard
Fall & Winter
---
Fall and winter light is amazing. It's some of the best light you can get. Soft, warm light that will create a magical atmosphere during the couple photoshoot.
People that can get over the fact of being a little cold at times, will be the ones that get the big reward. It's another great reason to keep each other warm and get close actually. Cosy up with your partner and enjoy the lovely fall colors and winter light.
For the ladies
Dresses are not going to work in the Netherlands during the winter. During fall you might be ok, but no guaranties.
To be sure you wont loose a toe to frostbite, go for something more comfy and rock it. An oversized knitted sweater or kimono can be great for this.
For the men
Again, black trousers are great for men. Darker jeans work as well. Pick a thick sweater that complements your ladies outfit choice. Shoe-wise you can definitely pick something robust like Timberlands or Red Wings.
Accessorize with scarfs, beanies and other things to keep you warm but look cosy.
Fall / Winter Outfit Couple Photoshoot Moodboard
6. Timeless vs Trendy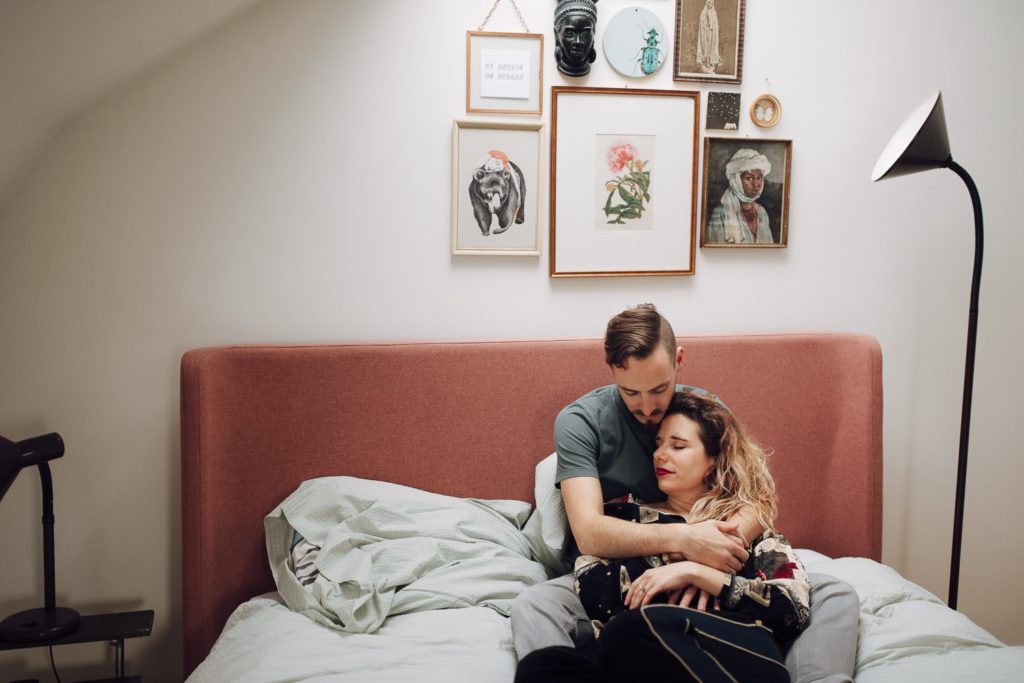 It's important to think about trends and personal style for your couple photoshoot. When I talk to couples about clothing, I recommend going with something timeless.
A trendy dress that screams 2020 can look great now, but how about in 10 years? Of course it's possible you actually want that 2020 look. If that is the case, go for it, but make it a conscious decision.
7. Two Outfits is Enough
Remind yourself not to spend too much time on clothing and outfits. In the end it's all about the love you feel for each other. Let that be your guide and don't go all fashion photoshoot.
Choosing two different outfits or only a few extra shirts is already good enough. It ensures time will be spend on actually being together and not on changing clothes.
Your couple photoshoot will last about 1 to 3 hours. Make wise use of this time to create authentic images that feel like you. Spend time on building a trusty relationship with your photographer. It will make you feel at ease which results in amazing photos.
Which Locations Work Best for a Couple Photoshoot?
The perfect couple photoshoot location is a place where you feel at ease. This will mean different things for everyone.
Some people love being the center of attention during a couple photoshoot. Others not so much. Consider what type of person you are when picking a location. It's a great way to start your search.
I have listed some options below to get you going.
1. At Home
Most people don't think about this as an option for some reason, but it's actually a great place to start. Think of your house as the most cosy and intimate place. Now it becomes the most logical place for a couple photoshoot right?
Creating images in the comfort of your own home is the perfect way to start your couple photoshoot. Think of your couple photoshoot as a small story. Stories need a start, middle part and ending. What better place to start than at home?
Picking an activity for the photoshoot is a good way to make sure you'll feel at ease. Cooking in your kitchen or create a magical cafe latte. It doesn't matter much what you'll do, as long as you do it together. It might be something you never did before to give a sense of exploring new things with each other.
2. Outdoors and Into Nature
Go outdoors for your couple photoshoot! More specific, make use of what nature has to offer in your area. It will bring an extra dimension to your photos.
Some couple photoshoot outdoor location ideas (click for Pinterest board):
Lake or ocean
Top of a mountain
Nature in all it's grandeur will definitely level-up your couple photos. It's a great option for adventurous couples that love to hike or explore.
3. Outdoors in an Urban Area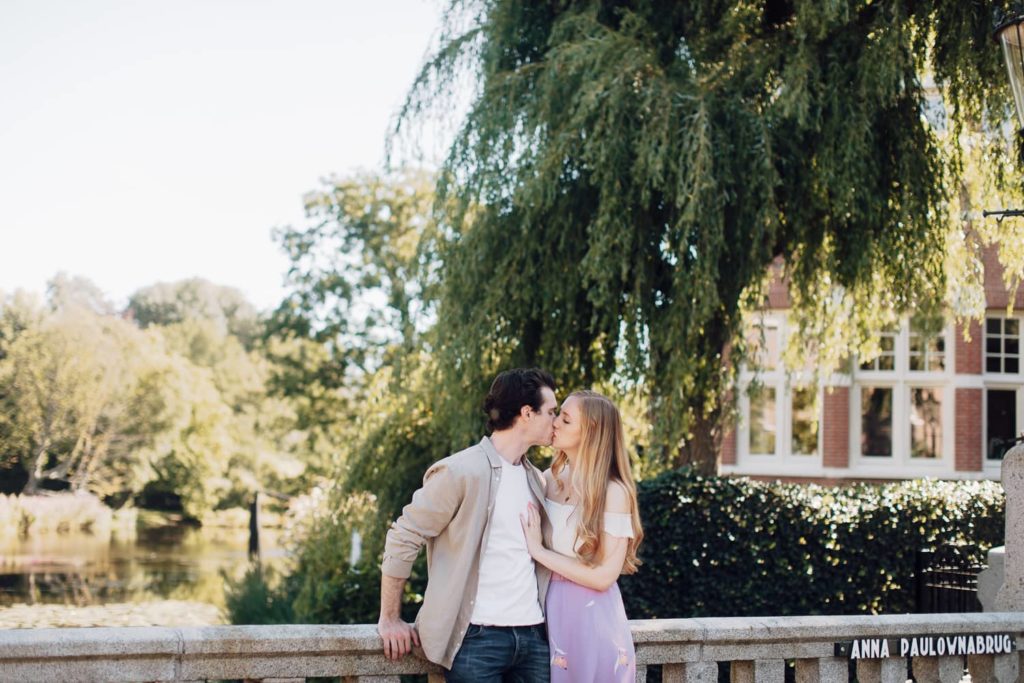 If you love cities and other urban areas that's great too! There are some things to consider when going out into a city.
First thing that comes to mind, think about backdrops. By this I don't mean you need the Eiffel tower behind you to succeed. I am talking about clean backdrops.
Make sure the photos will focus on you, instead of distracting elements in the back. No clutter, but calm backdrops that guide the viewer work best. Weird electrical lines hanging overhead? Light poles, red stop signs, big yellow truck? It's all taking the attention away from you guys.
A couple photographer will know how to put focus on you guys, but it's not easy when there is loads of clutter. Pick a spot that has clean backdrops like brick walls. Or go up onto a rooftop. You can show the city as your background, but have the sky as a clean backdrop to keep focus on you.
Urban / City Couple Photoshoot Moodboard
How to Pose for a Couple Photoshoot?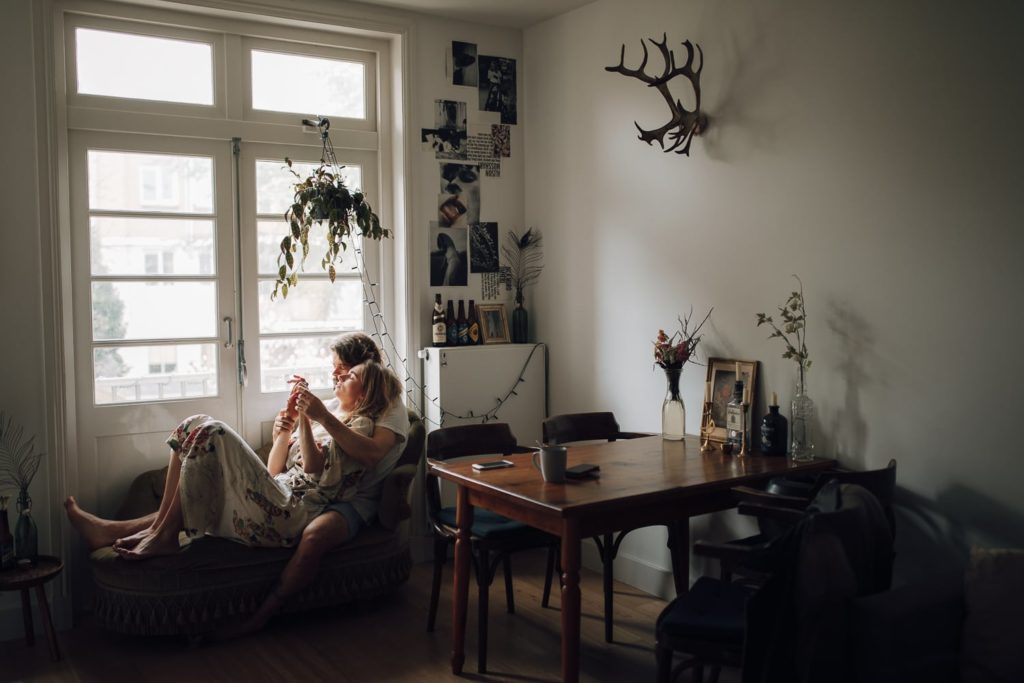 The day of your couple photoshoot has arrived. You feel a mixture of anxiety and excitement rushing through your body. But what do you do? How do you pose?
It's important to understand that capturing your love story works best if you are at ease. Being carefree is such an important part of capturing a true story instead of a scripted version. Because of this the posing part should feel natural.
How do we achieve this you might wonder? We take a different approach to "posing". It's that simple. Let me explain.
1. Be Together & Explore New Things
Micro directions like "chin up" or "now kiss" never work with couple photoshoots. It's taking all the real moments out of the photos. Instead you focus on being together and exploring new things.
Let me say "together" again, because that is the most important part. Everything you do during a couple photoshoot should focus on doing it together.
Walking in the forest or at the beach during your couple photoshoot? Hold hands or put an arm around your loved one. Smile, talk, laugh and tease each other. Be playful, carefree and make sure you do it all together.
The second part I mentioned was exploring. This is where the real and unexpected kicks in. Open your mind to explore new things and the couple photoshoot becomes about you. The photoshoot becomes about creating new images instead something we've all seen before.
2. Some Basic Poses Please!?
I understand people want guidelines or go-to poses. It's not a bad thing to have a few basic ones in mind. As long as you use them in a free and dynamic way, that's more than fine.
Have a look at the links below for some couple photoshoot basic poses.
How To Get Creative With a Couple Photoshoot?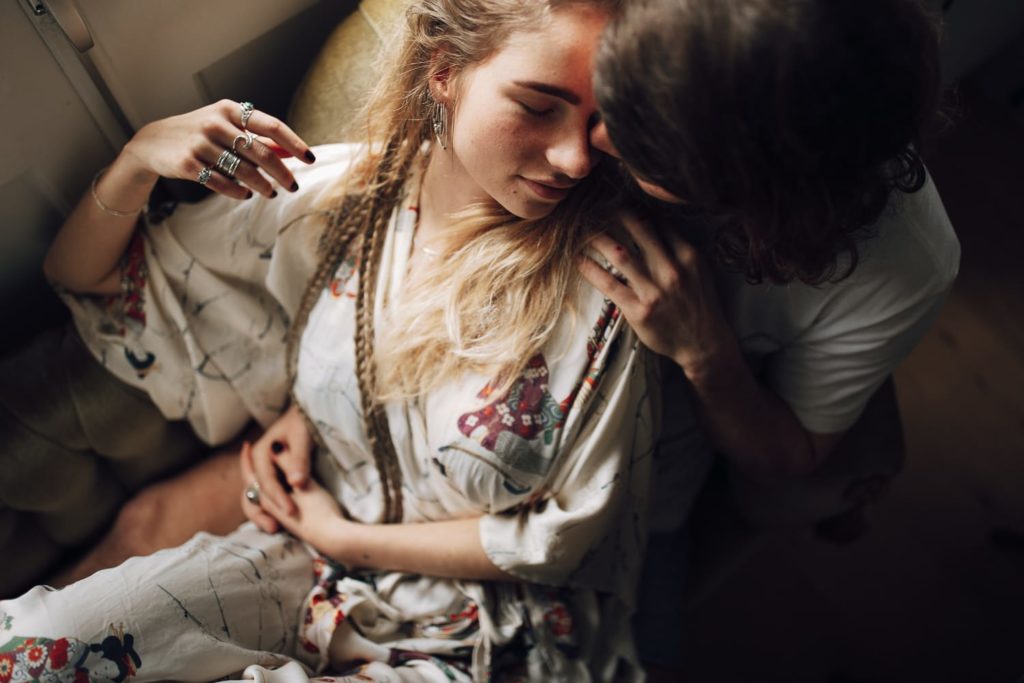 Couple photos should be unique and capture the real you. To achieve this, it is important to brainstorm before the actual shoot. Get creative during that process and think of things you would like to do.
To get your thoughts flowing, here are some creative photoshoot ideas to start with.
1. How Did You Meet?
Think back about how you met. Was it at a bar or during improv class? Whatever the case may be, it's a great place to start thinking about a theme for your photoshoot.
2. The Perfect Date
What would your perfect day together look like? Plan your perfect date and make a full day out of it together. Capturing part of it could be a great way to create unique images.
Some creative first date ideas to get you started:
Go to a local fair
Sunset beach walk
Picknick in the woods
Mini golf for some good laughs
Ice skating
Visit an art gallery
Focus on doing fun things together and you will "forget" the photographer. That's a bonus. No more awkward feelings, but fun and laughter instead.
3. Road Trip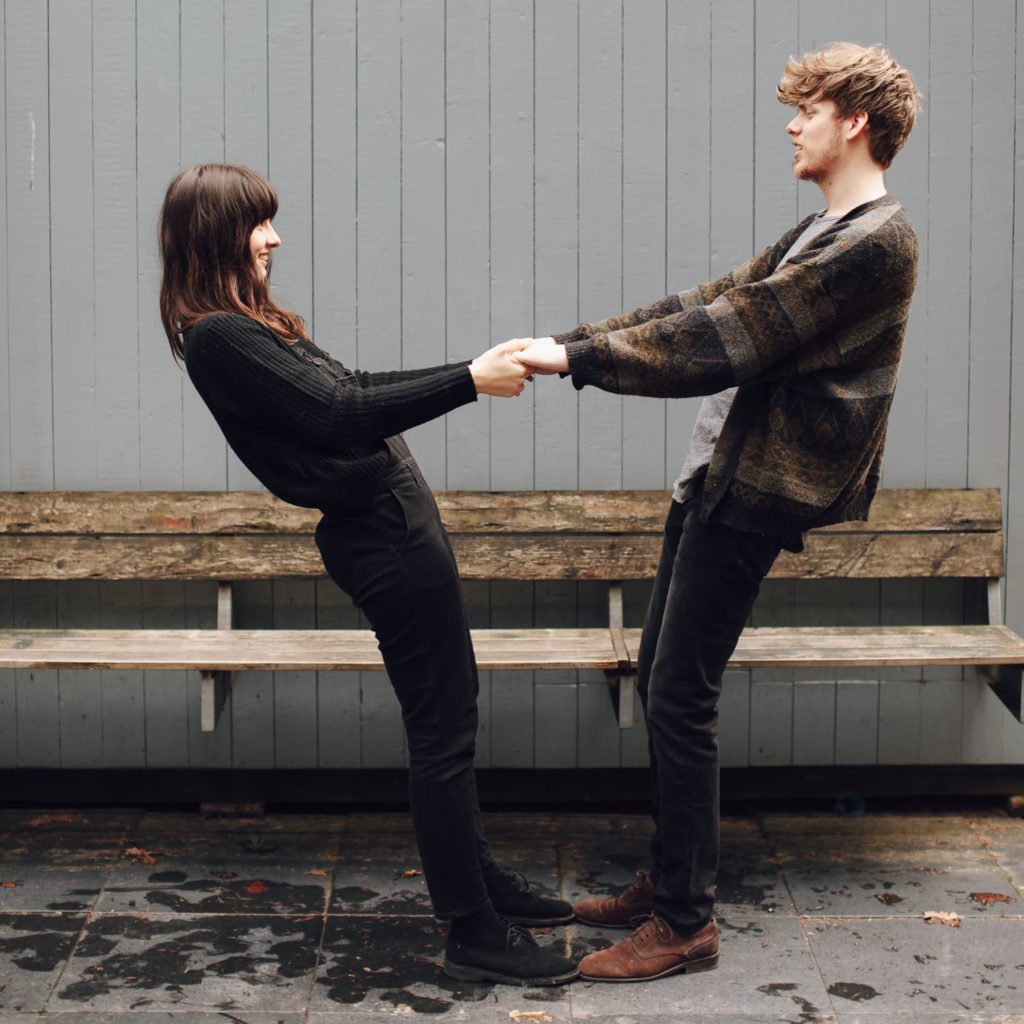 Go on a road trip. It doesn't have to be far to be unique. Explore, sing songs in the car, be young wild and free albeit for a day. It's a great way to have fun and capture some real moments.
Road Trip Couple Photoshoot Moodboard
4. Iconic Landmark
A couple photoshoot should be about the love you have for each other. This doesn't mean you can't add a big iconic element in the pictures though. Especially if you find an iconic place that screams love. The Eiffel Tower in Paris is a great example.
Iconic landmarks give a sense of place to your photos. Let it inspire you and create a themed shoot around it. You can even take your wardrobe into account. Go for a french beret if you go with the Eiffel Tower for example.
Famous iconic landmarks to inspire you:
Eiffel Tower – Paris
Big Ben – London
Tower Bridge – London
Piazza San Marco – Venice
Colosseum – Rome
Canals – Amsterdam
Empire State Building – New York
5. Follow Me Series
A couple photoshoot captures a moment in time you experience with your loved one. It's something to look back on and smile together.
How about seizing those moments even more? How about capturing them each year and make a series out of it? Your life together, told in a true love story.
You will start noticing things that have changed throughout the years. Trends that moved by. Hairstyles that are different and beards or mustaches that appeared. Kids who weren't there, but now are. It's all happening in life and it's definitely worth capturing.
A follow me series is the perfect way to document your life together and actually capture time.
6. Outdoor Sports & Activities
Both big fans of the outdoors? Do you surf, hike, climb or love some other outdoor sport? Use that for your couple photoshoot!
Romance and sports might not be the obvious combination, but it's a great way to get people at ease. By doing what you love, it's easy to forget you are actually in a photoshoot. That's the exact place you need to be to get photos that look natural.
7. Use of Props
The use of props might not be for everyone. I'm not a big fan actually, but I had to mention props because this is the ultimate guide to couple photos right!?
So, what about introducing props in your couple photoshoot? It could be a fun way to spice things up. Don't go overboard though. Above all, the photos should be about capturing your love.
Some tips for props to use:
Why Hire a Couple Photographer?
As a couple photographer I get this question asked a lot. Why should I hire a professional for a couple photoshoot?
Every person has different reasons to hire a couple photographer. I hope that reading this guide helped answering it for you.
The biggest reason is capturing the moments while you are in the moment. Freezing moments in your life to look back on. That's key.
You can take a selfie any time of the day together, but a real moment captured as it happens, that's unique. You need a professional couple photographer to do that for you.
1. Tips on Which Photographer to Hire
You are more than welcome to book me as your photographer. I am based in Amsterdam, the Netherlands. We can get the talk started and go from there!
I have written this guide for people around the world to enjoy. If you can't hire me, here are some quick questions and tips when hiring a photographer.
Get recommendations from people you know
Read Google reviews
Ask to see full galleries to check their style
Talk, get to know each other!
Is he/she a fulltime professional?
What is the turnaround time?
Do I get prints, an album or only digital files?
Is the post processing clean or trendy?
Do you shoot film or digital?
There are many more things you can ask your photographer, but focus on two things especially.
Do we match as people? Does this person make me feel at ease?
Do I like his/her previous work? Did I see full galleries or only 2 nice images?
The result of your couple photoshoot has to represent the real love story. Not a micro directed version of it.
In order for this to happen, the photographer needs to capture real in-between moments. This will only happen if you feel happy and at ease. It will happen if you can be a relaxed person that doesn't focus on the photographer, but instead sends out trust.
Do you feel that trust with your photographer? Great, hire him/her! That's the most important thing to look for.