Home » Couple »
Intimate couple boudoir with documentary style to tell the real story of two people in love. No awkward posing, but real photos with a relaxed vibe.
Looking for tips to get the best couple boudoir photos?
That's great, because I can help you with that!
Let's dive right in:
What is Couple Boudoir Photography?
Couple boudoir photography is a photographic style featuring intimate, romantic and sometimes sensual images of love couples. Couple boudoir photo shoots are a perfect way to document an intimate moment in your life together.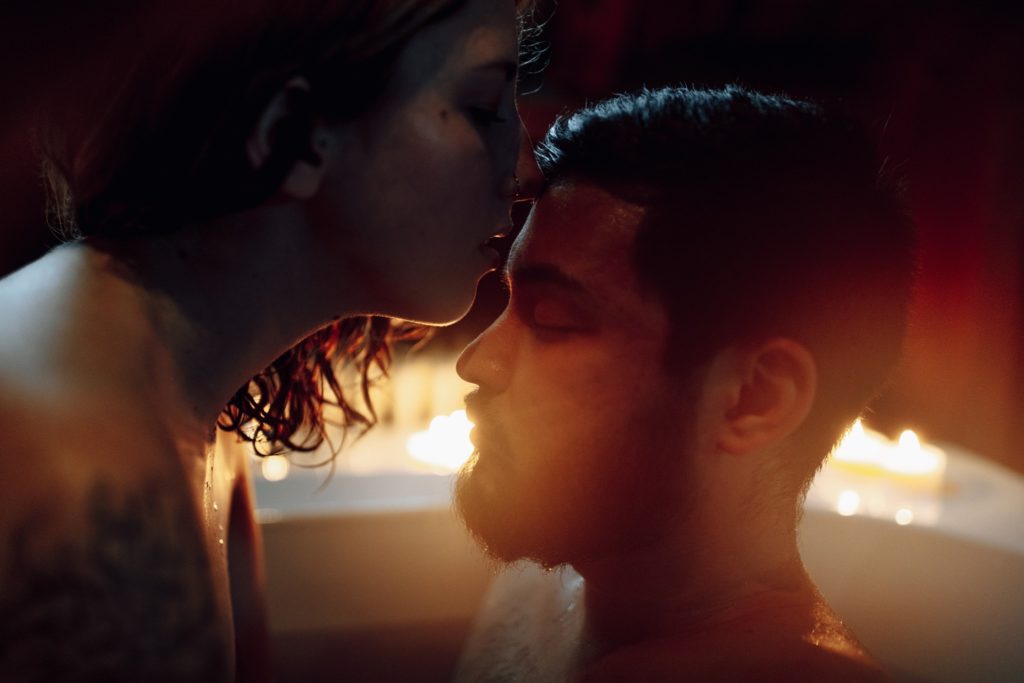 5 Reasons for a Couple Boudoir Shoot
Just got married? Your first year as lovers or maybe you are celebrating being in love for over 10 years. Whatever the reason, a couple boudoir photo shoot is an intimate and classy way of capturing your love for eternity.
Put on a cozy outfit or some sexy lingerie and enjoy some intimate moments with your partner. A couple boudoir shoot is all about being in the presence and submerge yourself in the love you are feeling for your significant other.
For some a couple boudoir shoot might be frightening, for others it's second nature. Whatever the case may be, many couples said that after the couple boudoir shoot they felt more connected to each other than ever.
Let me tell you 5 reasons why a couple boudoir photo shoot might be something for you.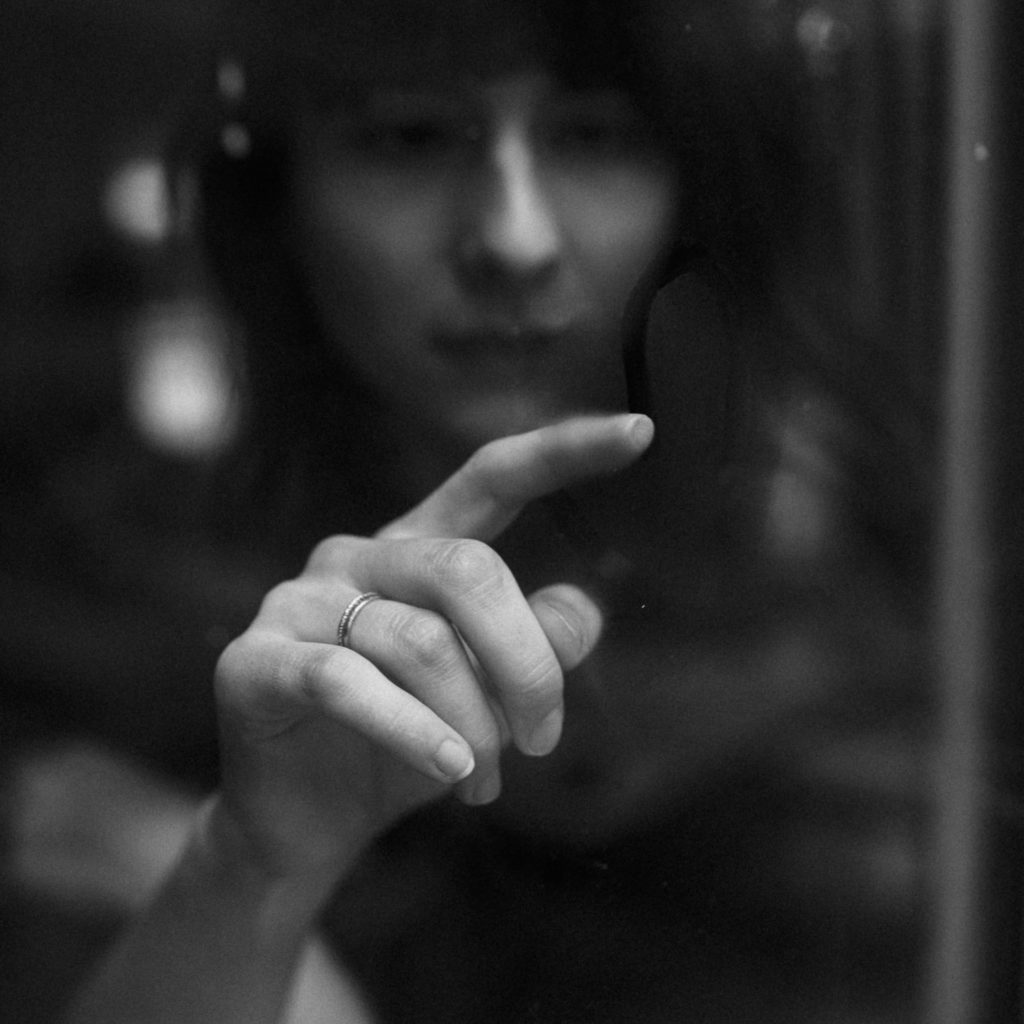 Set Your Own Boundaries
Couple boudoir photo shoots are great for lovers that want to document their love. Since everyone has their own personal limits regarding what should and shouldn't be documented, it's important to keep your own style and comfort level in sight at all times.
Together with the photographer set out a guideline of do's and don'ts before the shoot. That way you know what to expect and are able to fully relax during the photo shoot.
You Will Love the Way You Look
A professional couple boudoir photographer knows how to work with light and is able to capture the true atmosphere of the couple boudoir shoot. It's not about showing everything, but rather create moody and authentic photos that will tease the mind. Working with just a sliver of window light or maybe only some candles, the boudoir photographer knows his craft.
Besides the technical part of taking good photos, a true professional is capable of making you feel relaxed and capture the real you during the shoot. The best boudoir photographer will also guide you when needed to create flattering shots of the both of you.
It's about getting in your comfort zone and enjoying the couple boudoir shoot with your loved one. The best couple photographer knows how to get you in that comfort zone, but also helps to push your limits. Craft images together with your boudoir photographer that will exceed your wildest expectations.
Do Something Fun Together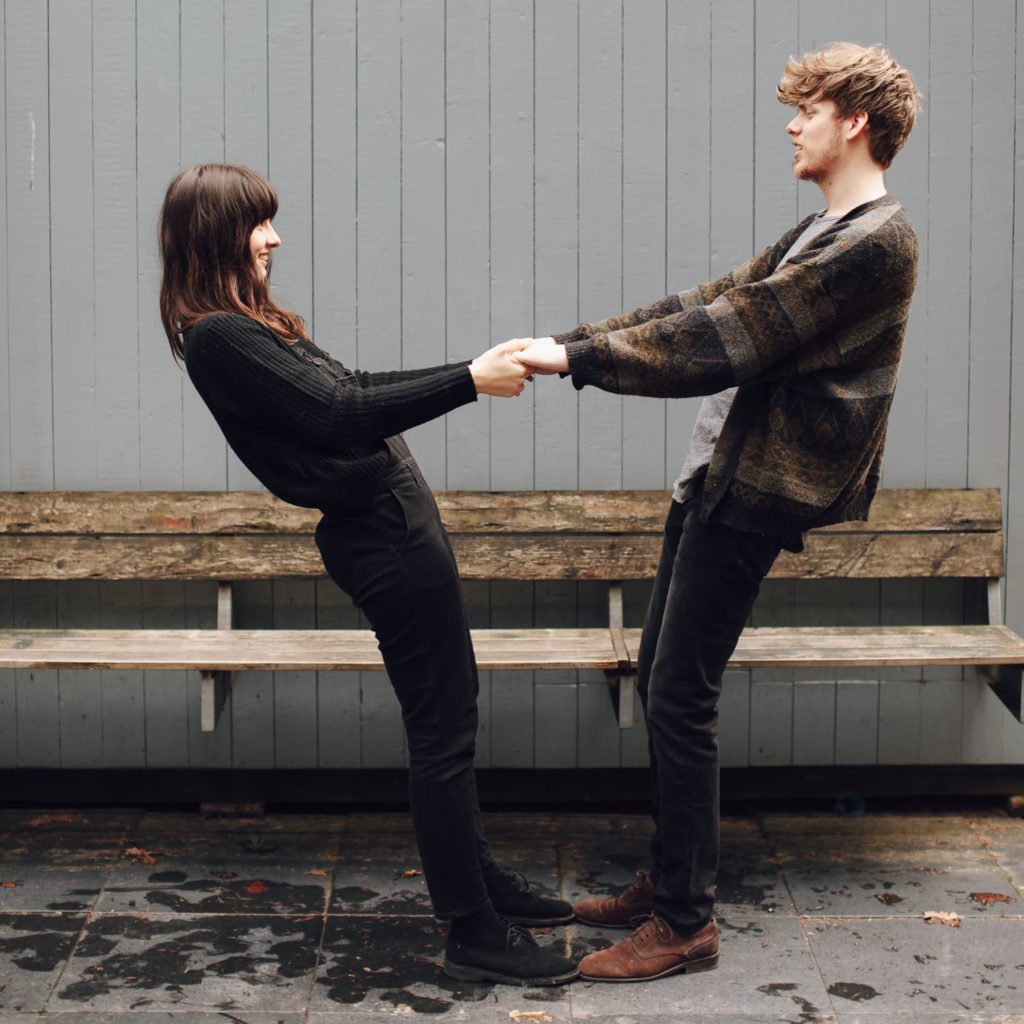 Spending time with you loved one and doing something fun is always a great reason. Capture the moments you experience as a couple and relive them for years to come. Of course you can take a selfie, but sometimes having a professional create art just makes more sense.
It's a Unique Present
What better way to surprise your loved one than with adventures to cherish forever? Capture classy photos showing the intimacy you feel together. Maybe even make an album out of it. Look back at the photos together and smile while you remember things that happened during the couple shoot. Relive those intimate moments with the gems from your couple boudoir experience.
Get Rid of Being Shy and Enjoy
A couple boudoir shoot might be easy for some and terrifying for others. Move passed your shy self and feel empowered you did afterwards. It's all about living in the moment and enjoying the experience with your loved one.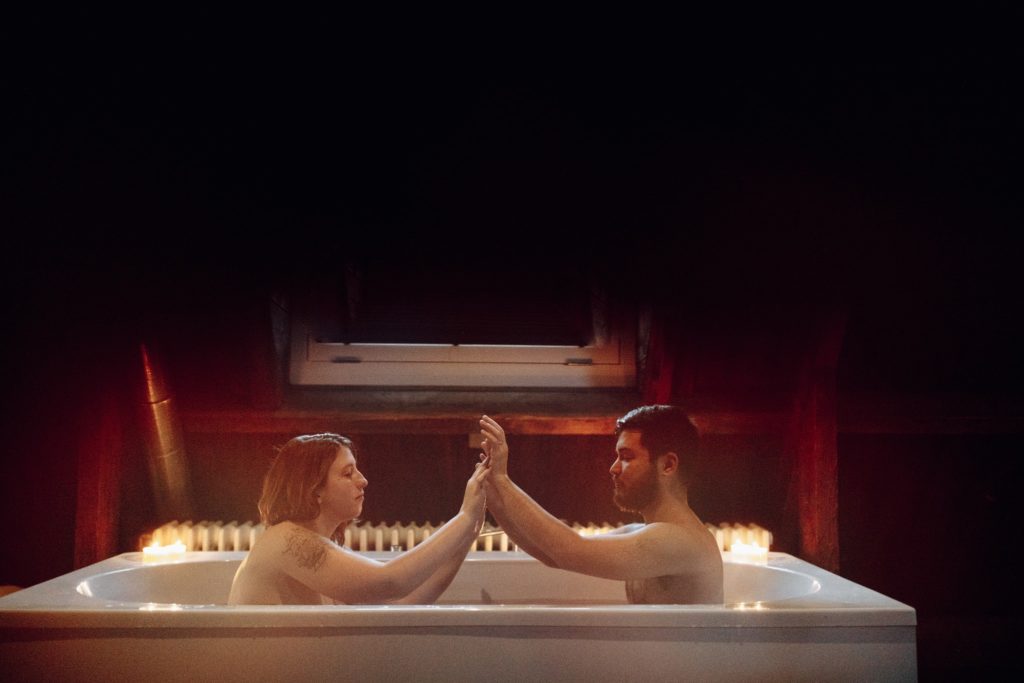 Picking the Shoot Location
When it comes to picking out the location for your couple boudoir photo shoot there are loads of options. Clearly there are some obvious places to go to like your home, but there might be some you didn't think of before.
The most important thing is you feel comfortable and relaxed at the couple boudoir location you decide to go with. This ensures capturing real images of you as a couple instead of a nervous and awkward version.
Your Home
The most obvious place to select as your couple boudoir location is your own home. You will probably feel the most relaxed here, since… well there is no place like home.
Don't worry about the esthetics of your place too much, since there is always a good spot to use. Be it in your own bed with just some window light or maybe that little corner on the couch with the last light of day. A couple boudoir photographer will make it work, since he knows how to create the mood and atmosphere in the couple boudoir photos that you saw in his portfolio.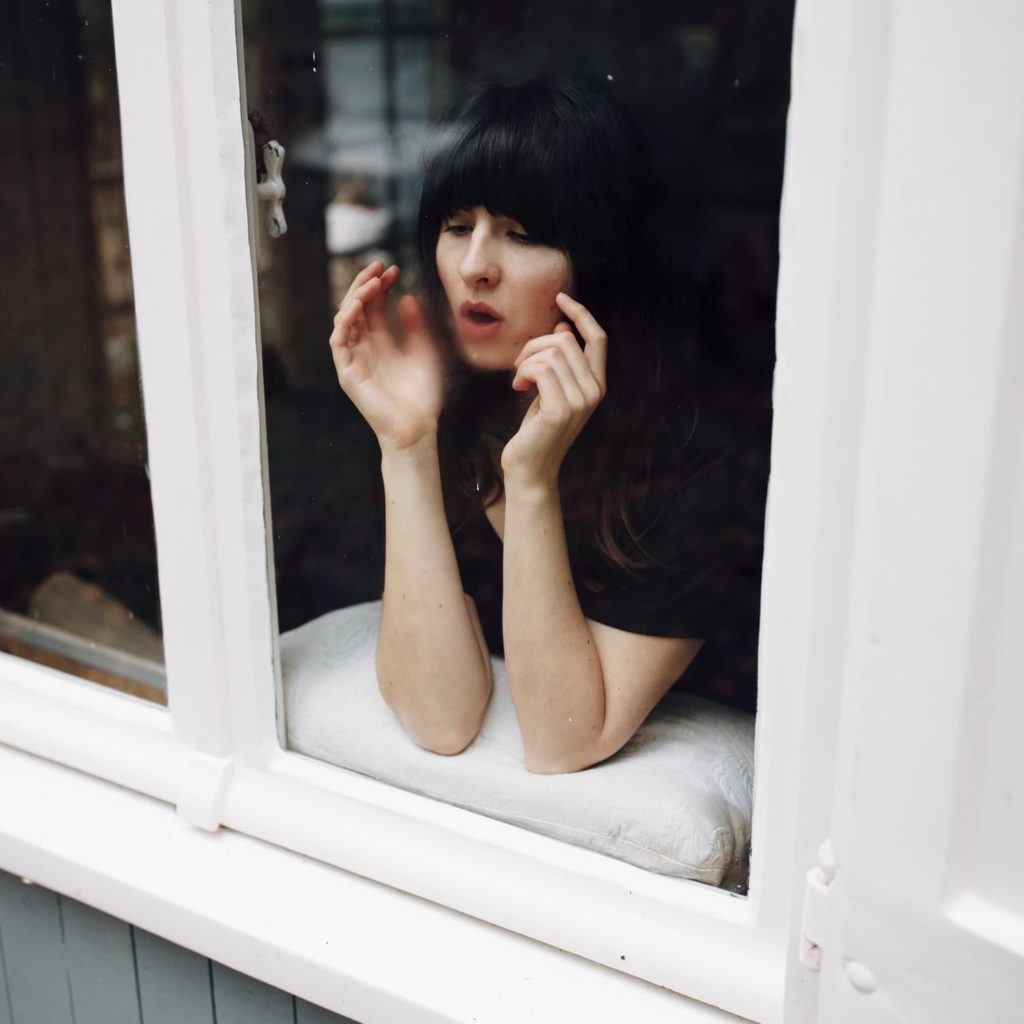 Rent an Airbnb or Hotel Room
Are you out exploring a new city or did you just elope with your partner? Why not make the adventure even better with a couple boudoir shoot.
Create something special to remember the trip or your elopement. Maybe let the photographer capture part of your day together and then ease into the couple boudoir part at the end. The possibilities during a city adventure are endless. Contact your couple photographer to see if he/she knows some lovely places to go to.
Go out and into Nature
How about shooting your couple boudoir session outdoors? It might be for the more adventurous among us, but it's definitely a great option to choose.
There are many private spots around this globe that might be just the right fit for your couple shoot. Get in touch with your photographer and set out for an adventurous hike to get you into just the right mood for a couple boudoir shoot afterwards.
Deciding What to Wear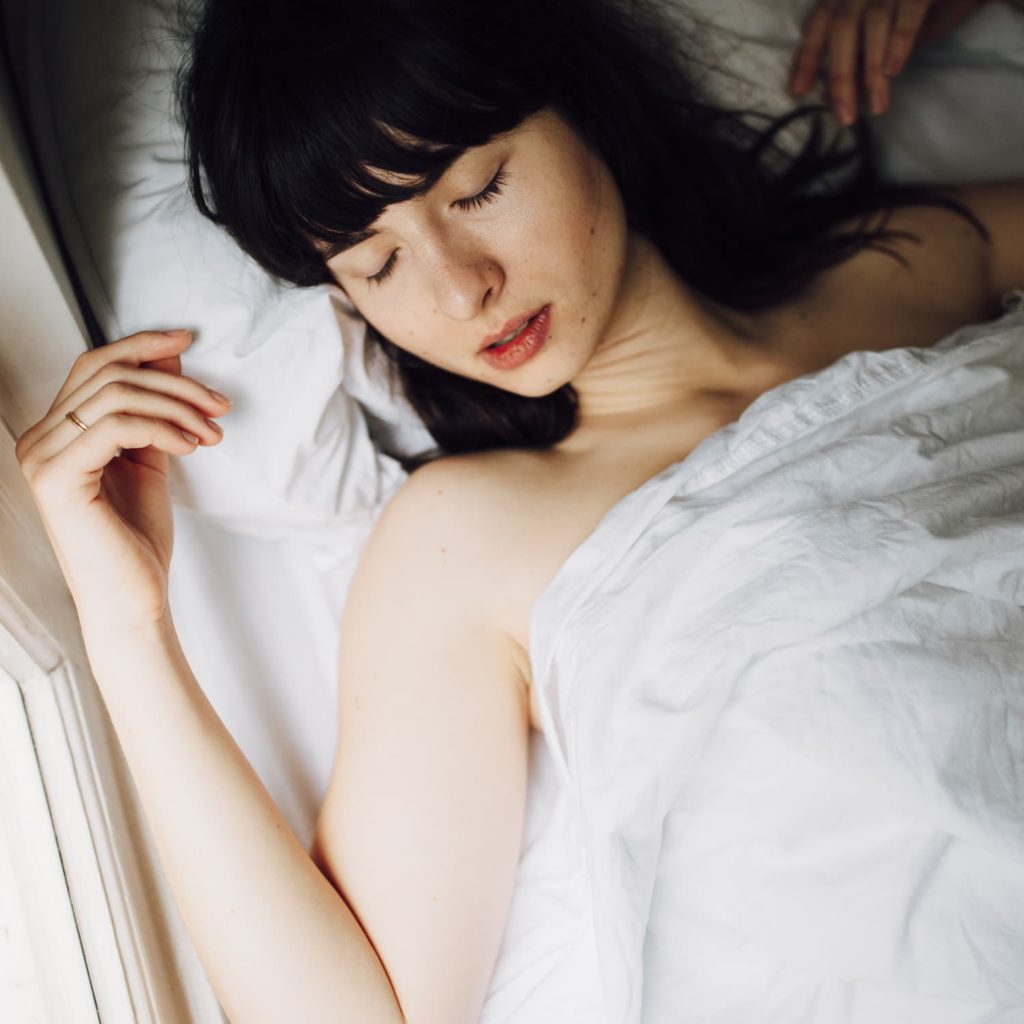 Determining what to wear during a couple boudoir photo shoot can be tough. It's a great idea to start with deciding the vibe and feel of your photo shoot. How cozy, intimate or sexy do you want to make the shoot? This will ultimately point you towards a certain wardrobe.
Below I have put together some clothing tips for your couple boudoir session. Keep in mind though, the most important factor is putting on – or the lack of for that matter – clothing that makes you feel confident.
Lingerie
When it comes to shooting something as intimate as a couple boudoir shoot, the clothing that comes to mind first for many is probably lingerie. A beautiful example of empowering lingerie for woman is made by Tisja Damen.
Although many people consider lingerie a sexy and empowering outfit, it doesn't necessarily have to feel like that for everyone. Wearing something that feels right for you and gives the confidence boost to be yourself is the most important during a couple boudoir shoot.
Starting your couple session with something less revealing and then easing into lingerie when you feel the confidence could also be a great idea. It might just be the cherry on top of the cake to finish your couple shoot.
Pinterest Clothing
We have talked about the obvious choice, lingerie, for your couple boudoir session. But what are other options?
I would suggest checking out my Pinterest board for "Couple Shoots at Home". There definitely are some great things to try in there.
Remember, it's not about being nude or undressed. It's about being together with an intimate vibe. That can mean so many things to different people.
Find clothing that makes you feel amazing and sexy if you want.
Keep On Reading
There are many great resources out there if you want to read up on couple boudoir photography.
Make sure to inform yourself as much as you can to get the best from your photoshoot.
I would love to help out if you need more information. Get in touch and we'll get the ball rolling.