Home » Wedding »
Festival chique wedding at old farm close to Amsterdam. Celebrating life & love with their guests, Barry White and a brass band.
Let's dive right in with this Table of Contents:
Festival Wedding Tips
So, you are thinking about a festival wedding? Let me help you out and set the stage for your festival wedding.
A festival wedding takes place outdoors. Finding the right wedding venue is therefor key in planning your festival wedding. Did you think about live music? Catering with finger food? It's all about creating a laidback vibe and bohemian atmosphere.
Festival Wedding Venue
Find a venue that has a lot of space to create your dream wedding. You are definitely going to need it for tents, tipis, stages for live bands, ceremony place, food trucks, etc.
It's important to think about utilities as well. Find a festival-ready terrain like camp-sites that have toilets and electricity. Think about kitchen facilities as well for your catering company.
You can also contact farms in your area to see if they are willing to rent their land out for a festival wedding.
Bohemian Wedding Dress
During a festival wedding things will get dirty. You are outdoors, in nature. You wanted this remember?
Pick the right festival wedding dress for the occasion. A dress that allows you to move around free is best. Don't go overboard with large veils. It makes things complicated. You don't want to spend more time on moving around then actually enjoying the wedding.
Instead look for wedding dresses that are comfortable to wear. Bohemian dresses definitely come to mind quick for this purpose.
Hair & Make-up
You definitely want to use Pinterest for this one. It will give you so many ideas to try your head will spin. Try typing in things like "festival style wedding" or "bohemian make-up".
Add some lovely flowers your husband-to-be handpicked from the field and you're good to go.
Flowers & Bouquet
As said above, handpicked wildflowers are great for festival weddings. They are fresh and have extra meaning because they are from the field you are getting married on.
It's also possible to pick some wildflowers and dry them out. It will be a different more rustic look, but same meaningfulness.
You can even use the wildflowers in your dining decorations.
Entertain Your Guests
Live music trumps all at festival weddings. It's sort of a must-have almost. It doesn't have to be a full orchestra, but a small band definitely speaks festival.
Although live music is a big part of the vibe of festival weddings, there is more to entertaining the guests.
Festival weddings are great to get people mingling. Let them play a game of "Giant Jenga" or some other garden game for some good laughs. A photobooth is great to capture some fun memories and have your guests show their happiness.
Kids at your festival wedding? Hire a bouncy castle or send them on a scavenger hunt. Make sure the kids enjoy themselves and so will their parents.
Food & Catering
It's best to serve some easy food at your festival wedding. Food trucks are great for this. Contact a good caterer and you have a list of options in no-time. From pizza or burgers to a full on bbq, it's all well in place at your festival wedding.
Rainy Start of the Day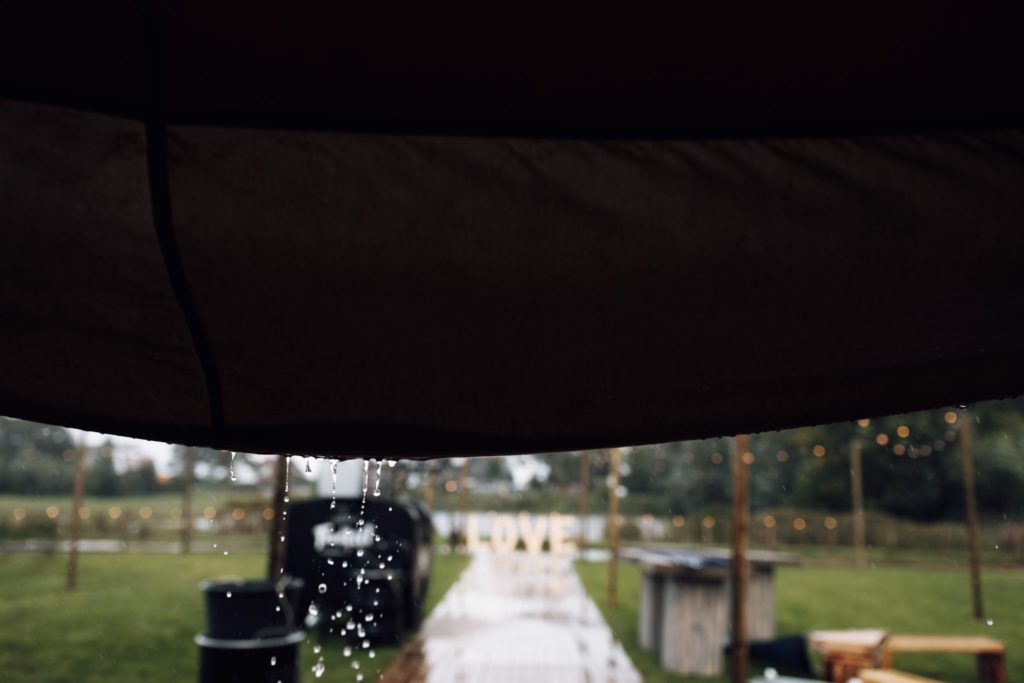 We started this festival wedding with rain. Sometimes rain in the morning can make everything look beautiful and shiny. Luckily everyone could shelter at the farm and festival tent during getting ready. The weather became better as the day progressed.
In the Family Farmhouse
This festival wedding took place at the family home of the groom. He grew up at this farm in Bodegraven and after the passing of his parents the farm has become the weekend "get out of the city" place for the bride and groom.
Bride Getting Ready
The bride was getting ready in the old farmhouse surrounded by memories of old times.
Groom Writing Vows
The groom was putting the finishing touches to his vows in the old kitchen of the farmhouse he grew up in.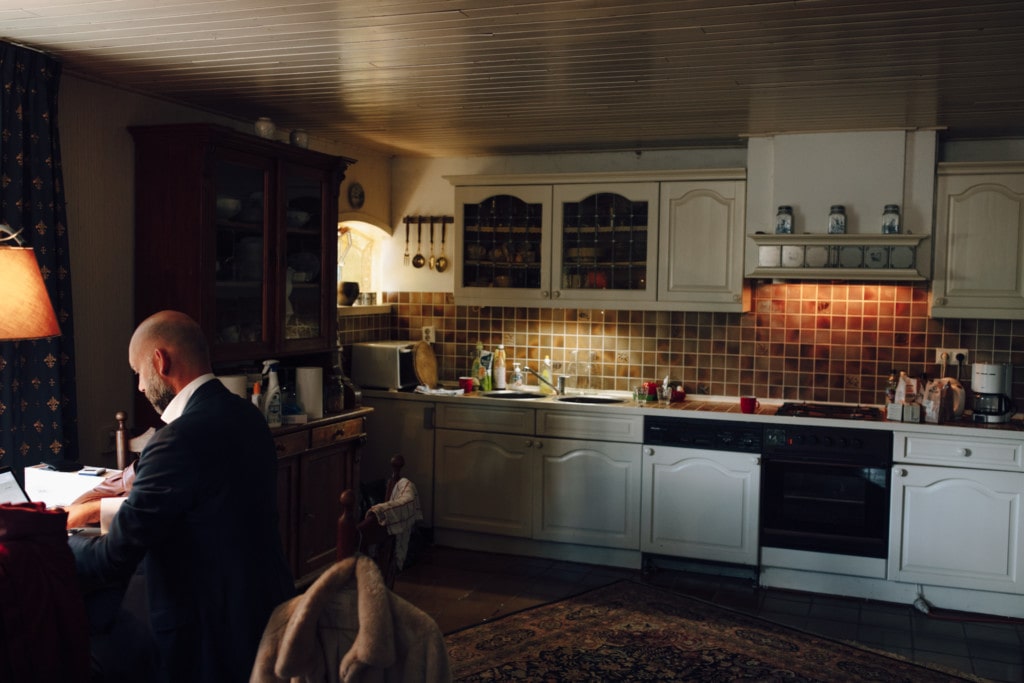 Guests Arriving at the Festival
While the bride and groom are getting ready loads of things were happening at the festival terrain. Wedding guests arriving and having fun together, awaiting the big moment when the bride and groom join them.
Festival Wedding Guests
All the guests are enjoying their drinks and start of the party at this beautiful festival wedding.
Speech & Kiss
Since the actual wedding ceremony was a day prior in the Amstel Hotel in Amsterdam, today there was a small speech by the bride and groom to open their festival together with the wedding guests.
Switching Dress & Suit
After showing her wedding dress to the guests it was time to get into a more comfortable dress and get the party started. All the men went for black tie and tuxedos.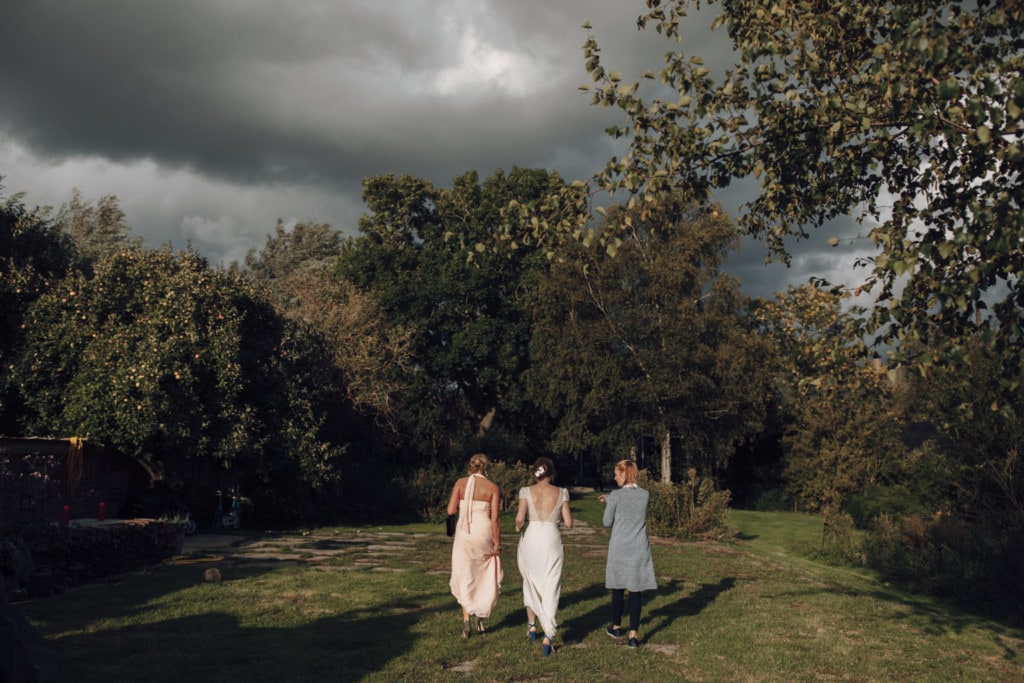 Finishing Make-up
Putting on the party dress together with her best friend and putting the finishing touches to the make-up.
Getting Ready for the Brass Band
The bride and groom were ready for their big entry and get the party started with the beats from a brass band.
Bride and Groom First Dance
Right before the brass band would enter the stage, the bride and groom held their first dance to open the party.
Arrival of the Brass Band
The brass band was ready to take the party to the next level.
Full Orchestra in Festival Tent
After the brass band the wedding party went on inside the festival tent with a full orchestra and singers performing.
Time To Party
After the brass band and orchestra there was a DJ making sure everyone was jumping on the dancefloor.